The New Hope-Solebury High School girls' volleyball team took their second win against George School on Friday, September 27. The New Hope Lady Lions had a quick three-game win, led by captains Emma Singer (senior) and Casey Coughlin (senior).
In the first set, New Hope had multiple, consecutive service errors. Freshman Libero Caleigh Roach managed to turn the game around with her serves. The first set ended 25-16 for New Hope.
In the second set, sophomore Jacqueline Whitney kept the pressure on George School with five offensive kills. New Hope-Solebury's most statistically consistent defender, captain Emma Singer, helped pick up many of George School's offensive moves, bringing the second set to a 25-19 win for New Hope.
In the final set of Friday's match, captain Casey Coughlin began with thee consecutive service aces, setting New Hope up for another win. Coughlin's assists throughout the matches also brought New Hope to another victory.
New Hope's key middle hitter, Madison Jaronski (senior), was not in attendance at Friday's game. Sophomore Toni Suler quickly compensated for the position. Suler's first leading appearance in a varsity match this season was a success, as she assisted the team's win offensively.
The New Hope-Solebury lions have had a successful season thus far. Coach Roy Watson has high hopes for a district bid as well as success in the Bicentennial Athletic League (BAL).
New Hope volleyball's next home match is Thursday, October 3 at 5PM against Archbishop Wood High School.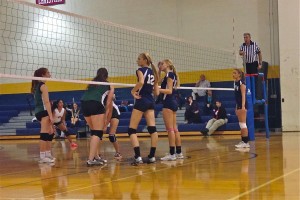 Sophomores Toni Suler (left) and Jacqueline Whitney (right) prepare for a serve from George School at Friday's match.